Shaped CPO kit
8/3/2009 - the Shaped CPO kit has been replaced with the Shaped CPO II kit
The Shaped CPO kit is a Code Practice Oscillator with a shaped or ramped near sine-waveform which makes listening to code more fun than the typical square wave, 555 based code practice oscillator. It features: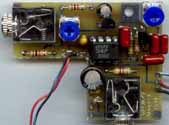 on-board key and stereo output 3.5 mm jacks
setup for easy installation in a candy tin
available as a board only kit
twin-t oscillator for near sine wave output
variable frequency via on-board trimmer pot
on-board LM386 amplifier included



Printed manuals available for an additional charge or save money by downloading (Right click/save target as) and printing the Shaped CPO kit manual , schematic diagram and hookup diagram all in Adobe Acrobat (.pdf) format.
Here is a troubleshooting text file containing DC and AC measurements for the Shaped CPO board.

Please note that the circuit board has been changed slightly from the documentation, please click on the circuit board picture above for a larger view of the latest board. R1 and C4 have been moved, R1 (4.7k, yellow, violet, red, gold) is visible above the jack J1 at the lower right. C4 is the dark red cap to the right and slightly above R1. Optional .1 uF and 10 ohm decoupling components are visible to the left of the jack J1.



For larger quantity purchases, to combine with other items, for DX purchase price or for any other questions, please send an email to me, Chuck Olson, WB9KZY at:





with your question or the items you want and we'll email you a Paypal invoice.
Page accesses: