11/22/2009 - The Island Keyboard has sold out
It was a Morse code keyboard kit with the following features: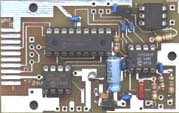 Use your Tick, K8 or PK-x keyer chip (plugs into socket on right side of board) to send Morse Code with an IBM PC keyboard
keyer functionality retained (paddle input, etc.)
20 memories
90 character type ahead buffer
beacon mode
character space length is programmable (3-9r dits long)
machine pin sockets included with kit
low power, as little as 1.5 mA standby, depending on keyboard used
size (2.5 by 1.5 inches)

Printed manuals available for an additional charge or
download the manual, schematic and hookup diagram and print your own!

12/15/2006: USB keyboard usage ?
Per an email inquiry, I tried the Island Keyboard II with a USB keyboard (Kensington) using a USB to PS2 adapter. It seems to work fine with the Island Keyboard II, taking just a little longer at powerup than a regular PS2 or PC-AT keyboard. Note that the USB to PS2 adapters often are supplied with the USB keyboards or mice.

8/16/2007 - However, I did try a Cherry G81-3000 USB keyboard and it did not work with the Island Keyboard.

For any questions, please send an email to me, Chuck Olson, WB9KZY at:





with your question.
Page accesses: