New (November 12, 2021) The Keyall HV + kit
update: May 6, 2022: check your transmitter schematic to see if one side of the filament is grounded, then select the correct set of documentation below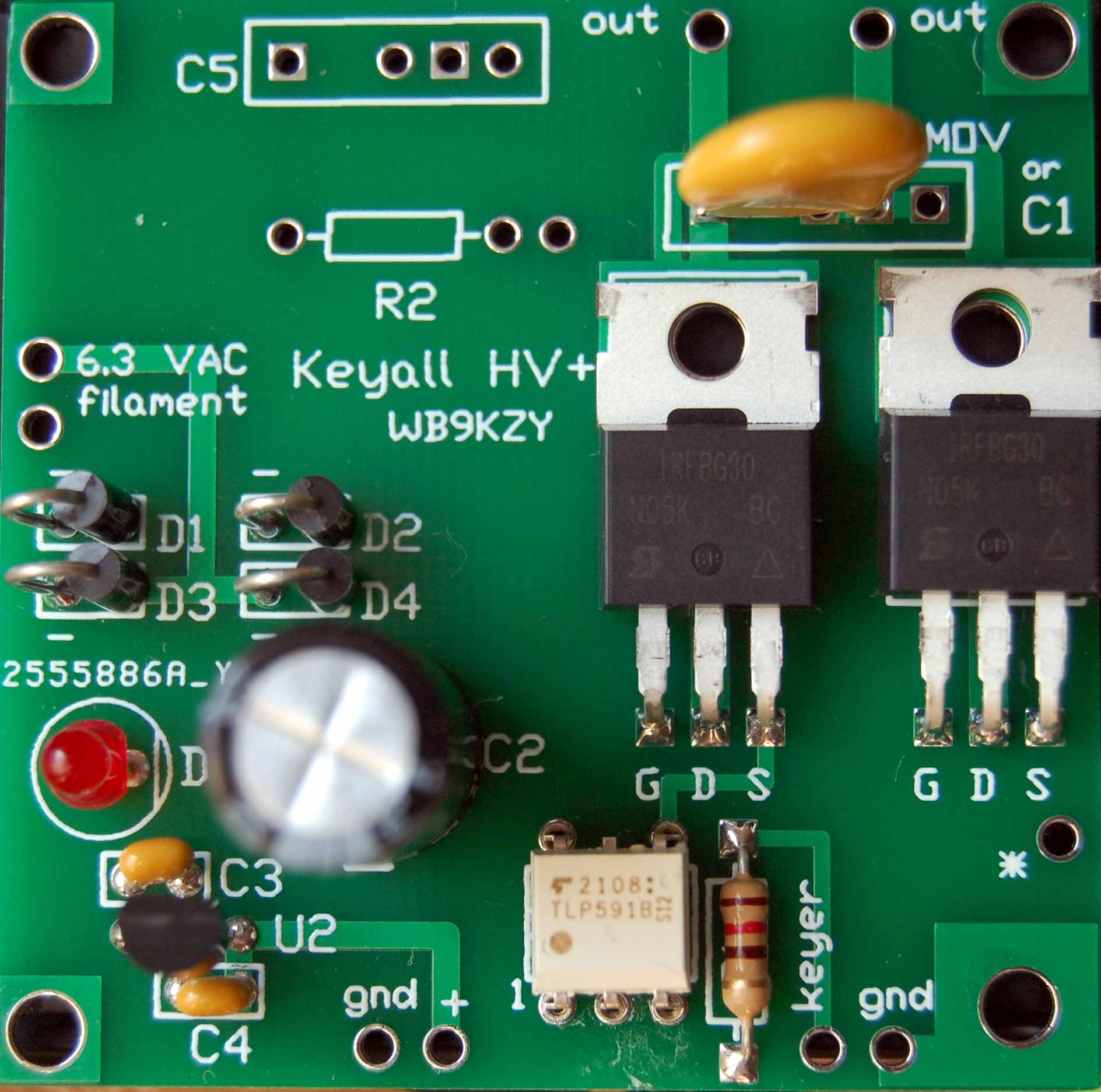 The Keyall HV + kit allows the owner of a keyer with a low voltage positive (NPN or n-channel MOSFET) keying transistor to drive the vacuum tube transmitters and transceivers of yesteryear. This unit will key negative voltage rigs (grid block keying) or positive voltage rigs (cathode keyed tube transmitters. The output transistors and capacitor are rated at 1000 V and 3.1 A (3100 mA).

Suggested by Wes, W3KW, the Keyall HV + kit is an update of the original Keyall HV kit that is mounted inside a tube transmitter and is powered from the 6.3 VAC filament winding.


design is a MOSFET based solid state relay, SPST-NO single pole, single throw, normally open
the kit adds a 3.3 volt regulated power supply powered by the 6.3VAC filament winding to the regular Keyall HV kit
high voltage output is optically isolated from the low voltage input
kit includes a circuit board and most board mounted components
board size is 2 x 2 inches
Price (no printed documentation) is $18 + shipping/handling
add another $1.00 for a 6 pin socket for the PVI
please pick the correct set of documentation below, grounded filament transformer (xfmr) or floating filament xfmr

Printed manuals available for an additional charge or save money by downloading (Right click/save target as) and printing the

grounded filament manual , grounded filament schematic and grounded filament parts placement diagram.

floating filament manual , floating filament schematic and floating filament parts placement diagram.
Print out a Kit order form to figure your order manually
OR try our: javascript order form to let your browser do the math