12/27/2013 New manual / schematic, new balun cores used for inductors
05/06/2012 - 530 kHz lowpass filter components now included
Need other parts to complete your kit ? Please see the: switch and parts page

On boards supplied prior to June 25th 2019 there is some unsightly board plating, it doesn't affect performance.
Suggestion from a customer: use a brass brush to shine up the bottom traces before soldering.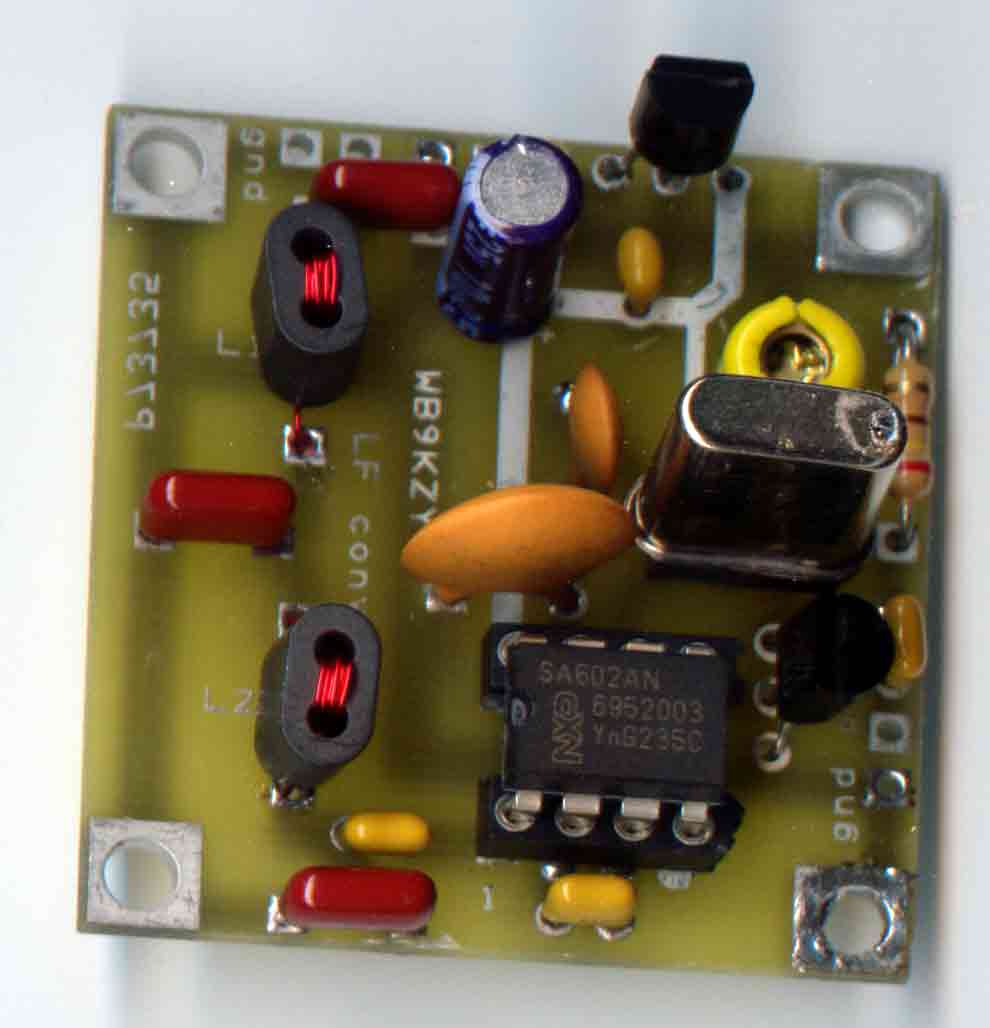 LF band (10 to 300 kHz) upconverted to HF (covers 2200 meter, 135.7 to 137.8 kHz ham band)
with the included optional parts also covers the 630 meter, 472 to 479 kHz ham band
use with your HF ham radio OR shortwave receiver
all board mounted parts supplied
just add your metal case, connectors
price is $15 for basic kit (4 AND 10 MHz crystals, no printed documentation) + shipping/handling
05/06/12: 3 capacitors and a resistor are now included with the kit for a higher cutoff filter (see the mod section at the end of the manual)
add $3 for additional filter components (see the mod section at the end of the manual) designed by Jack Smith in his review
12/27/2013: note that the extra filter components now have BN-61-2402 balun cores and smaller magnet wire
12/25/2010: also note that per Jack Smith, his web page may not be viewable by folks in Europe, please email



if you'd like me to email a pdf file of Jack's review.

download (Right click/save target as) and print the current manual and schematic.

For kits purchased before December 27, 2013 here are the older manual and schematic. Also, the older update notes which used to be included with the kit.

Print out the Kit order form to figure your order manually
OR try our: javascript order form to let your browser do the math
For any questions, please email:



Downloadable files for LF Converter
The Acrobat files of complex diagrams (like the schematic) may not view well on your computer screen - suggestion: use the magnifier to zoom in for better detail or print out the file. (Right click any link below, then select "save target as" to save the file to your PC.)

For current kits here are the latest docs:

lfconv5.pdf - an Acrobat file of the LF Converter manual

lfconv5s.pdf - an Acrobat file of the LF Converter schematic


For kits purchased before December 27, 2013 here are the older docs:

lfconv4m.pdf (16k) - an Acrobat file of the LF Converter manual

lfconv4.pdf (69k) - an Acrobat file of the LF Converter schematic

lfconv5a.jpg - a picture of the old LF Converter board

The following files were recorded with an Elecraft K2 on 40 meters fed by an LF Converter - recordings made 5/3/2002 in the early afternoon (1:45 to 2:15 PM) local time using a 70 foot wire antenna, 15 feet above ground, location: Washington Island, WI.

24khzx.wav (39k) - a .WAV sound file of the 24 KHz Military station

wwvbx.wav (61k) - a .WAV sound file of WWVB at 60 KHz

loranx.wav (20k) - a .WAV sound file of Loran pulses at 100 KHz

atx.wav (17k) - a .WAV sound file of the AT beacon at 228.87 KHz

dgpsx.wav (33k) - a .WAV sound file of the Sturgeon Bay, WI DGPS stations at 321.9 KHz

LF web links:

K0LR - A backup of Lyle Kohler's (K0LR) terrific web site

LWCA - Long Wave Club of America web site

Page accesses: