7/28/2009 - the Mcount has been replaced by the Mcount2 kit
The Mcount kit is a frequency counter with Morse code output. It features: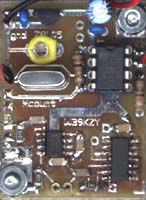 optional divide by 10 prescaler extends coverage to 500 MHz
code speed can be varied from 5 to 35 wpm in ARRL steps
"cut" numbers can be used to speed up the "display"
kit uses two SO surface mount ICs and 1206 sized R/C
available as a board only kit, with a full parts kit or assembled
programmable offset for digital "dial" usage within a rig
digital "dial" can "display": vfo-offset, vfo+offset or offset-vfo
all settings retained in eeprom after power down
gate time can be either 100 ms (10 Hz) or 1 second (1 Hz)
machine pin socket for PIC counter chip
5V regulator included, power the kit from 8 to 14 volts
board size is about 1.1 x 1.5 inches
NEW: 10/9/2006: sidetone frequency now variable in 16 steps from 247 Hz to 1046 Hz

The PIC counter chip alone is $3.
Please note that no documentation will be sent with the kits or chip.


Print out a Kit order form to figure your order manually
or try our: javascript order form to let your browser do the arithmetic.
For more information on the kit please download (Right click/save target as) the Mcount kit manual , schematic diagram and hookup diagram all in Adobe Acrobat (.pdf) format.

Chuck Carpenter, W5USJ, has kindly provided a nice circuit board overlay in Acrobat format.

The manual is also available as a Word 6.0 DOC file and as a text file.

Don Hatlestad , AC7FA, has created a neat little foldable pocket sized (but 8 page) cheat sheet for the Mcount in .pdf Acrobat format based on the manual. Much appreciated Don !

Tom Fowle, WA6IVG, has written a review of the Mcount for the Handiham web site, thanks Tom !

Tom Fowle and David Vasquez of the Smith-Kettlewell Eye Research Institute have recorded an audio version of the Mcount manual, thanks Tom and David ! If you would like an audio CD of the manual please let me know prior to ordering the kit. I've tried converting the CD audio to mp3 format and have posted the 10 parts here:

Mcount00.mp3 Narrators Note and Main Title (82k)
Mcount01.mp3 Introduction (50k)
Mcount02.mp3 General Notes on Building the Mcount (347k)
Mcount03.mp3 Building the Mcount kit (2539k)
Mcount04.mp3 Operation (3647k)
Mcount05.mp3 Gotchas (401k)
Mcount06.mp3 Modification Ideas (477k)
Mcount07.mp3 Email Closing Copyright (78k)
Mcount08.mp3 List of parts included with the Mcount kit (913k)
Mcount09.mp3 Items you need to provide to complete the Mcount kit (307k)




Page accesses: